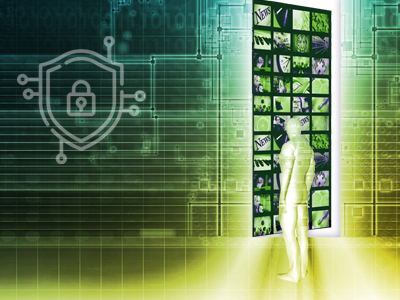 Technological advancements and evolving consumer demands have transformed the global media and entertainment industry. New and old providers have been pushed towards digital offerings. Billions are being invested in creating and delivering high-quality content. Global audiences continue to be enraptured by social media, consuming music, videos, news and gaming content like never before. These platforms are making media more shoppable, where buying and content experiences are converging. Even cryptocurrency and blockchain are weaving their way into this global profit powerhouse, poised to become a $2.3 trillion industry in 2022.
But, as the industry increases its reliance on digital platforms and opens doors to multiple partners, its most valuable asset, high-profile content, is being threatened by malicious actors. Over the years, we've seen media companies and their associates targeted by a slew of cybersecurity breaches. Valuable content and data are being stolen, leaked, or held at ransom, causing huge financial and reputational damage.
Easy Prey for Ransomware Attacks
Attackers are not sparing any stakeholders. For instance, in early 2020, REvil ransomware was unleashed on the New York-based firm, Grubman Shire Meiselas & Sacks, which manages several A-list celebrities, including Lady Gaga and Madonna. Hackers threatened to release over 756 gigabytes of data, including personal correspondence, non-disclosure agreements and client contracts. The hackers said that they will auction off stolen data related to singer Madonna.
At 60%, the media and entertainment industry accounted for the highest percentage of ransomware attacks in 2020. The complexity of these attacks is growing every year. Attackers disrupt customer-facing services and prevent access to important data. Studios investing billions of dollars on content are easy targets, as they are likely to pay up any amount to avoid pre-release leaks and reputational damages.
The interconnected nature of all companies poses further risks. For instance, the June 2021 ransomware attack on Cox Media Group, impacted other companies broadcasting Cox Media stations. Hulu, the popular streaming provider, for example, received complaints from customers on Twitter. The company later tweeted that it was facing a data feed problem from one of the Cox stations.
Threats from Foreign State Actors
Attackers don't always have financial motives. Hacktivists or groups of politically motivated criminals can launch attacks on media firms to further their views or propaganda. They can target companies that don't align with their political or religious views or practices. The tools available to them are many, including website defacement, Distributed Denial of Service Attacks (DDoS) or Domain Name Service (DNS) hijacking.
These attacks can sometimes be state-backed, a foreign country trying to derail the information infrastructure of a rival nation. State-backed attempts at propaganda distribution and economic espionage are targeted toward the entertainment industry too. Infamous examples of this include the 2015 attack on the French news station TV5 Monde by Russian actors masquerading as ISIS operatives. The attackers stalled broadcasts for hours and disrupted the company's website and social media accounts. There were 147 cyber espionage incidents in 2020, of which 30% were reported by media firms.
As the media and entertainment industry plays a significant role in shaping public opinion, it will continue to face attacks from such elements. To discourage the publication of controversial news and stories, cyber attackers affiliated with a government might want to gain access to an organisation's data and broadcasting network.
Remote Work Fuels Phishing Scams
With the increase in remote and hybrid working models, phishing attacks have become common. Over 86% of organisations in 2021 faced bulk phishing attacks, up from 77% in 2020. This is when emails containing malware and spurious links are sent across the company. By impersonating trusted people on social media and emails, hackers target employees and can gain access to a company's network when they disclose passwords on download malware.
Media and entertainment employees rely heavily on social media for outreach and publicity, which is becoming a security issue. Beyond connections, social media is also becoming a primary gateway for consuming various content formats. This includes videos, games, news and music. With multiple actors at play, the security risks have increased manifold in the media and entertainment ecosystem. Today, commodity malware can help hackers to launch successful campaigns on these platforms, without the need for command and control servers. These are easier and more cost-efficient ways to extort money from enterprises, through data exfiltration, lateral movement and exploitation of vulnerabilities.
Scams and Customer Fraud
A special group of cybercriminals uses these systems to defraud customers and fans. The media and entertainment industry has another prime asset apart from content, its engaged and loyal customers. This makes them appealing targets. Malicious actors can hijack social media accounts of companies as well as celebrities, and post malicious links and scams. For instance, in 2020, Bitcoin scammers hacked the Twitter accounts of several celebrities, including Kanye West and Barack Obama. Twitter called this a successful, coordinated "social engineering" attack by people who targeted internal systems through its employees.
Many customers' accounts for streaming services are also compromised and sold on the dark web.
Cybersecurity Threats Becoming More Sophisticated
Leaders of media and entertainment companies are strengthening their ecosystems and protecting their most critical assets today. But the approaches they use to address risks might not be in sync with the escalating threats. This could be because the traditional information security model, which is reactive, compliance-based and perimetre-oriented, doesn't work in today's environment. Thus, companies spending billions of dollars on security systems might find them to be based on outdated technologies
Mediastalker – Cybersecurity Solutions Based on Emerging Technologies
Traditionally, media and entertainment companies have taken steps to prevent theft of pre-release content and post-release piracy. But, there are limitations to this approach. In the current environment, we need systems that can detect and respond to security breaches, apart from preventing them. Digital transformation has opened up new opportunities for cybercriminals too. Businesses need to exploit the potential of advanced technologies that can evolve the defense mechanism with each attack and increase the ability to protect content.
Mediastalker uses AI/ML to help media companies protect their valuable IP assets. We protect companies against digital piracy, IP thefts and sophisticated cyberattacks. We have a track record of rescuing over 2.1 million stolen media and restoring more than 6,000 IP assets. Our expertise spans a wide range of companies, right from major film studios to live-event firms. Trust us to understand your business model and suggest the best strategies for network-wide protection.
Choose a package that fits your assets. Test our solution today.