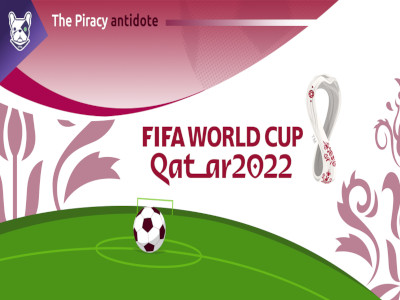 The excitement around the FIFA World Cup this year is almost palpable. Kicking off on November 20, 2022, in Qatar, the event is projected to attract a whopping 5 billion raving fans from all across the world. The 28-day event will have 64 matches, streamed live for all the football fans who can't be there in person. Unfortunately, there will possibly be double the number of pirates as there are legal streaming services, trying to capitalise on one of the most awaited tournaments.
With technology-led platforms identifying* 40,713 piracy links for the 2018 World Cup, the numbers are only likely to have increased by now! Most of these links were traced back to social media and YouTube.
*Mind that Mediastalker's dry run at that time, detected more than 110,000 illegal items!
Alarming Levels of Sports Piracy
Football is not the only victim of online sports piracy. A total of 362.7 million streaming piracy website visits were recorded in 2019. That was back when OTT platforms were still gaining ground. Increasing internet penetration and speed have made piracy even more accessible, which has inadvertently enabled the criminals to drain revenues from intellectual rights holders.
The improved streaming quality of HD 720p is the most popular among viewers for its minimal buffering delays and video quality. But the entire commercial chain, including broadcasters, media rights owners and delivery platforms, suffer huge losses due to digital piracy. Recent research reveals that piracy costs the sports industry as much as $28.3 billion annually. But this is rather a small estimation.
As a result, various actions are taking place worldwide but most of them are only shots in the air… The Canada Federal Court for example, has issued a piracy-blocking order to contain the damage piracy could cause to Canadian live-streamers during this FIFA cup. But is that enough? We strongly disagree! More aggressive measures should be employed to aid the sports industry gain rightful control over its content.
What Facilitates Sports Piracy?
There are three sources of OTT live stream piracy – external camera, HDCP Stripper and screen scrolling, offering low, high and very high video qualities, respectively. They work on the principle of attacking forensic watermarking (the traditional mode of video piracy detection) through resizing, frame rate change and collusion attacks.
But that's not all. Pirates have devised several mechanisms that work to acquire live content illegally, of which satellites are the softest targets.
• Sharing CCcam Card
This is the predominant method of attacking satellite providers. It is also known as control world sharing since it works on the principle of illegal sharing of valid subscription smart cards via aggregation of authorisations.
• Basic Interoperable Scrambling System-Encrypted (BISS-E)
The encrypted messages transmitted by satellites are called entitlement control messages (ECMs). When ECMs enter into a decoder, they are decrypted using special codes or keys, known as BISS keys. The technology relies on combining the satellite location with the key information to decrypt satellite content at the receiver's end.
Tapping into the security key is one form of piracy. The other is the re-distribution of authorised content without requisite permissions. Additionally, platforms offering multiple stream qualities with single and multi-stream delivery options open more channels of stream leakage for pirates to tap into
Although countermeasures, such as software updates, control-word modifications and OTT-specific controls, are in place, they work only after the damage has been done.
Fighting Piracy
A multifaceted approach is the only way to deal with the dark underbelly of the video streaming ecosystem. It needs a concerted approach with law, awareness programs and technology working in collaboration.
1. Law
Cyber-law authorities are putting in blood and sweat to control piracy. From creating legislation to its enforcement is time-consuming. Most laws are created only after an incident has taken place. By the time the law comes into force, technology has leapt forward, giving pirates new ways to attack your intellectual property.
Also, laws are applicable only under certain defined circumstances. For instance, the Canadian law to ban all piracy websites and attack confidential targets applies only to the FIFA World Cup. It will dissolve automatically after the event comes to a close.
2. Awareness
Creating awareness among consumers has to be an ongoing process across communication media, video streaming platforms and content distribution channels. Campaigns to draw attention to legitimate vs. illegitimate video access and rightful re-distribution need to be conducted. Most viewers are ready to switch to legal video streaming services, if made available in their region at a fair price. For events as big as FIFA, viewers are even willing to subscribe to OTT platforms that offer short-term plans for the sports season.
3. Technology
While the first two methods are long-term solutions, the need of the hour is to fight fire with fire. Pirates are using advanced technology to access live sports streaming. You need equally advanced technology to block them. OTT platforms and the complete audio-visual media sector desperately need a comprehensive digital rights management system that will prevent piracy, rather than having to deal with the situation after the fact.
Technologies such as AI/ML offer fast and flexible solutions to put a stop to piracy. These technologies can track live stream hijacking and video-link multiplication attacks. They enable the rightful content owner to block suspicious websites or streaming platforms in real time.
Digital watermarking is another technology that is applied to identify and track the source of a video stream. Anti-piracy experts use them to identify illegitimate content replication or redistribution, thereby preventing the exploitation of copyright content.
Partner with the Leader in Online Piracy Prevention
Mediastalker is a pioneer in using the latest technological advancements to protect digital intellectual property. Our powerful AI/ML-driven solution protects media portfolios, live streams, broadcasts and other forms of digital content in real-time. We employ a client-centric approach with our easily integrable plug-and-play solutions. With real-time analytics, our clients can track their assets being protected in real-time. In addition, analytical reports can help identify security blind spots in the existing setup so that any gaps can be plugged before damage is done.
With a track record of more than 5 million stolen media settled and over 11,000 IP assets restored, our proprietary technology has a success rate of 100% piracy blocks.
Don't miss out on revenue opportunities during the most awaited sports event of the year. Talk to us today to experience our solutions for yourself.